Open Day & Author visit
Wednesday 28th April 2021
8am to 11am
Principal talk –  8.30am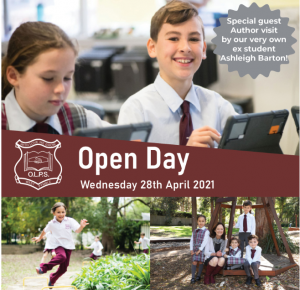 By popular demand, OLPS is hosting another Open Day and we have a very special visitor on the same day!  An author visit by an ex-OLPS student Ashleigh Barton reading and presenting her exciting brand new released book "What do you call your Grandma?"  Preschool children are welcome to join a book reading at 9.30am.   Parents are welcome to take a tour around our beautiful school.
OLPS is a K-6 Primary school, where we partner with you to transition to Big School from Pre School and when our students reach the Senior Learning Hub we prepare our Year 5 Students for their exciting leadership roles and the Year 6 Students prepare for High School.
Our dedicated and nurturing teaching staff have a wonderful focus on educating the whole child through our Deep Learning teaching method along with the important 6 C's of education (critical thinking, collaboration, communication, creativity, character and citizenship).
During these challenging few our small school has been a gift! Every student is known and we have been able to easily adapt to continue to provide exceptional education with no disruptions and issues.
Form to register: https://docs.google.com/forms/d/e/1FAIpQLSeHCNurBUi9MHw77nVrnRJXSCi045nHc6rPX8ya871V9SVrYA/viewform