Welcome to Kindy 2022
Hello Kindergarten & parents! Welcome to OLPS Catholic Primary School West Pymble! We are very excited for your child to be joining our school in 2022. Our classroom has many fun and exciting things planned for the school year.
What to expect when your child starts Kindergarten
During Term 4 2021 (Nov 2021), children who are starting school in 2022 will attend transition days.
Kindy Transition gives the children the opportunity to have a "test run" morning at OLPS. The children participate in a range of activities to enable our Kindy teacher to get to know them and familiarise themselves with school and meet some of the children.
We look forward to seeing you at the Group Transition session.   If you miss the orientation dates, we are happy to tailor an orientation program for enrolling families later in the year.
Our new Kindy students are excited to meet their Year 6 buddies and spend time with them being shown around the school. The Year 6 Buddies talk to their new Kindy student about what happens at school.
This is a great time for parents to meet.  Our Principal takes the time to discuss starting school and provides lots of information.  The Uniform shop is available for Parents purchase the school uniform.
What happens during the day in kindy?
In Kindergarten, your child continues to build on the important skills they have developed with you at home and preschool.
These skills may include your child being able to talk about things that interest them; draw pictures; pretend to write; recognise colours, numbers, sizes and shapes; and share with others. Students have access to a 1:1 iPad device and they use the technology as part of their everyday learning. Students have taken photos and created small presentations.
Our Kindy Students participate in a Deep Learn Project. This year our Kindy class learnt about 'Where our food comes from and ways to reduce food waste'.  They have been proactive in monitoring older students to ensure food is not being wasted and thrown out. 
Is your child ready for kindy?
The key areas of maturity and development are the social and emotional areas, says Mrs Host.
Here are some of the questions she asks when assessing school readiness:
Can they make an independent decision and follow through on this?
Do they have ideas of their own?
Can they follow two or three instructions at the same time?
Can they move on to new activities easily?
Do they separate well from their carer?
Do they show interest in other kids?
Do they interact with other children?
Can they recognise and express their feelings and needs?
Can they concentrate on a task?
How do they deal with frustration?
Interested in enrolling next year? Please contact the school office on 9498 6060 or book a private school tour with our Principal.
Download My Daily Routine printable planner to help them stay organised.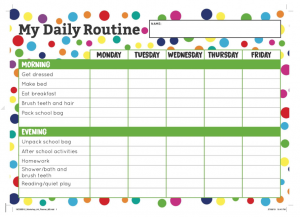 My Daily Routine