OLPS is a Be You school.  Be You is a mental health and wellbeing framework for primary schools.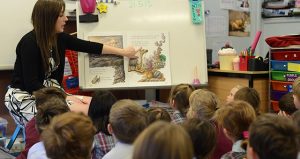 Childhood is a crucial time for growing healthy minds. All children need care and support to develop and learn. Some children need additional help to reach their potential.
Be You provides educators with knowledge, resources and strategies for helping children and young people achieve their best possible mental health.
OLPS take great pride in the wide ranging initiatives within a Pastoral Care and Wellbeing Framework. Be You fits well into this approach and is a great resource, funded by the Commonwealth Department of Health.
Through Be You we plan and take action to be a positive community; one that is founded on respectful relationships and a sense of belonging and inclusion, and that promotes:
social and emotional learning (including evidence-based social and emotional learning programs)
working authentically with parents, carers and families
support for students who may be experiencing mental health difficulties.
 Read more on the following:
Be You Website
Responding Together - Be You
Always Be You
Fact Sheets - Be You
Please contact our Principal, Jodi Jefferson, for more information on Be You at OLPS.