Our Lady of Perpetual Succour Catholic Primary School is an integral part of the Pymble Catholic Parish.

The school is fortunate to be situated on the same site as OLPS West Pymble Church. This enables close links between the Parish School and Parish Community. Class and whole school groups are able to utilise the Parish Church in terms of Worship and Prayer Life in a most convenient, practicable and accessible way.
Sacraments
Family based Sacramental programs are on offer to all children in Broken Bay Diocese schools.
Our parish has Sacramental Coordinators who are supported by the Sacramental Team including the Parish Priest and may include the Principal and Religious Education coordinator of the school.
OLPS Sacraments Celebration Order
| | |
| --- | --- |
| Confirmation | Year 3 |
| Reconciliation | Year 4 |
| First Eucharist | Year 4 |
Parents are invited to celebrate the Eucharist with the children attending Mass at school on special days as outlined in the school calendar. Different classes take responsibility to plan Masses and Liturgy of the Word throughout the year. Parents are informed of dates and times in the Parent Newsletter.
Family Masses are a feature of the Pymble Parish. Family members are actively involved in different aspects of the celebration of the Eucharist. Dates for these Masses are announced on the website, the Parent Newsletter and in the Parish Bulletin
The Pymble Parish has launched a way for families to stay in touch through Flocknote. This enables parishioners to receive emails on updated Parish news and gives members access to a wonderful library through Word on Fire.  For more information please see the sheet click on the following link. Flocknote info sheet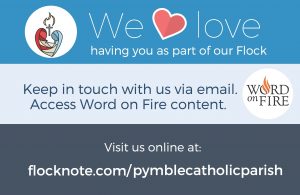 Prayer
Children should first be taught to pray formally and informally at school so that each child builds up a loving relationship with God.  Parents are encouraged to pray on a daily basis with children so that school can reinforce that which is first taught at home.  Each class holds their own daily prayers.  School Masses are celebrated on special feast days/ special school celebrations and on weekends and parents are most welcome to attend.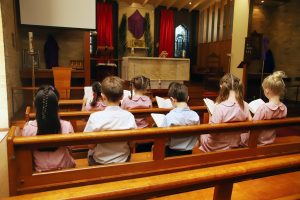 Social Justice
There are a number of Social Justice Initiatives in action at OLPS and can be grouped in terms of local, national and global social justice initiatives.
Locally our Care Network reaches out to those families in our community who are in need during times of crisis and need. The care network is strongly supported by many families whereby they provide meals, transport, domestic and educative services.  Locally the school supports The Dish which is an outreach program to the homeless and needy in the Hornsby area. Meals are made and delivered to a particular area in Hornsby on a regular basis.
Nationally the school supports Caritas Australia and Catholic Mission. An important part of the program is education to make people in our community aware of the injustices in our world.